Social media isn't social unless you use it to say something that matters that is both personal and social.
Midlife mortality is increasing in America
Two years ago I pulled the alarm the best I could with the headline: economic stress in the US may already have an epidemic health impact. It cited data from the National Academy of Science that showed life expectancy in the US had shifted in to decline except for the richest Americans.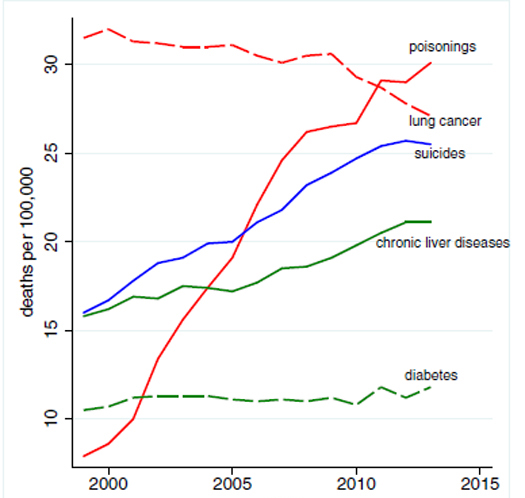 This week, new research published by the American Medical Association showed the continuation of this trend. Despite spending more on health care than any other country, the United States has seen increasing mortality and falling life expectancy for people age 25 to 64, who should be in the prime of their lives. In contrast, other wealthy nations have generally experienced continued progress in extending longevity.
Here's the report's conclusion:
"US life expectancy increased for most of the past 60 years, but the rate of increase slowed over time and life expectancy decreased after 2014. A major contributor has been an increase in mortality from specific causes (eg, drug overdoses, suicides, organ system diseases) among young and middle-aged adults of all racial groups, with an onset as early as the 1990s and with the largest relative increases occurring in the Ohio Valley and New England." 
Coverage by the Washington Post quotes Ellen Meara, a professor at the Dartmouth Institute for Health Policy and Clinical Practice, noting that the report shows a broad erosion in health with no single cause. "There's something more fundamental about how people are feeling at some level — whether it's economic, whether it's stress, whether it's deterioration of family," she said. "People are feeling worse about themselves and their futures, and that's leading them to do things that are self-destructive and not promoting health."
My focus in last week's post on pervasive stress and mental health in America echoes in these stories of midlife mortality.
American's are even more stressed over the holidays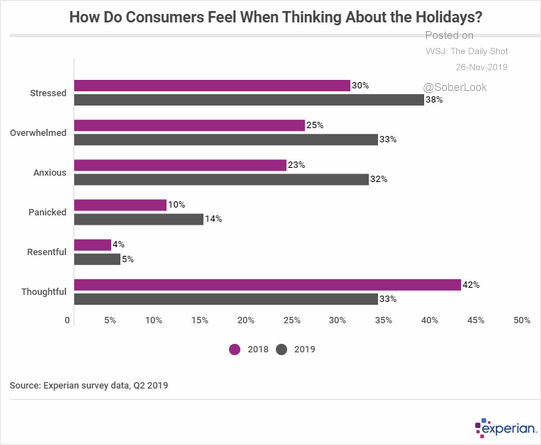 Ask consumers how they feel at the holiday, wait a year and repeat. Research by Experian says consumers are more anxious, panicked and overwhelmed.
Naturally, when Jared Johnson asked me to talk a few minutes about what's trending in healthcare marketing — I talked about the toxic cocktail of stress, illiteracy, mistrust and inequity which blocks patients from engaging in the care.
Mass General / Partners may spend $100 million to change its name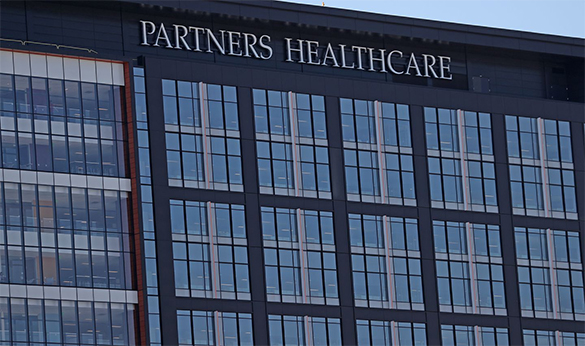 Changing healthcare is a huge job; Partners HealthCare is ready to spend as much as $100 million to re-brand as Mass General Brigham.
I've personally been treated at MGH and The Brigham in recent years – Partners HealthCare always felt like an abstraction that administrators focused on, while care happened in named clinical systems.  So I get it — they want a unified name. But name changes take on a gravity of their own, and when charitable non-profits contemplate spending $100 million on their own name, that's worth a longer look.
The stated goal of the name change is to better integrate the dozen hospitals and its insurance company, AllWays Health Partners (formerly Neighborhood Health Plan), in to one better understood system. If that's the goal – then here are the key questions to see if this change delivers.
Is this choice overly reactionary to local competition? Two of Partners local rivals merged to form Beth Israel Lahey Health. This brand move sets them to seem similar. But for both, there's a limit to how many great hospital names can be packed in to a brand. As both continue to evolve, being the names of their parts.
Does the name Mass General Brigham need a modifier to explain its function? Mayo and Cleveland are Clinics, Johns Hopkins and Northwestern end with Medicine (a hat tip to their strong academic medical affiliations), Northwestern also keeps Northwestern Memorial Hospital as a famous sub brand which is an SEO hook for people searching for a 'hospitals'. Brigham uses Health in its brand today. The Mass General Brigham (MGB) name assumes awareness and a pre-existing category association which the name doesn't manage.
What about the real brand behind them all, Harvard? MGH has a historically tight connection to Harvard Medical School. It is a natural differentiation to draw against NY Presbyterian or Mayo Clinic. However, locally Beth Israel, Dana Farber and Boston Children's Hospital all have relationships to HMS too. Is there a way to carve out a higher brand relationship for MGH & Company worthy of using the Harvard name at a brand level? Sure, the geopolitics to accomplish this could eons, but this would be a bolder move than following Lahey & Company.
What will a $100M rebranding actually accomplish? Ideally the nearly nonsensical AllWays Health Partners brand will be immediately subsumed. But what about the two main clinical systems, will this new master brand eclipse their famous names so they operate in the public mind as a merged entity? I doubt it. I would be surprised for them to approach US News as a merged brand, and if they are rated separately, they'll be marketed that way. If the MGB brand might just ends up as a nod in their tagline next to the two brands, as Partners is today, then this change will be far less than it could.
The ROI of this move will be measured in change — while words are important, changing healthcare will be the ground truth of this new brand. Its announcement by Parnters HealthCare held out that promise — that the full system would work together to take on a "leading community health issue".
That sounds like the kind of ground truth that could give the new brand meaning. Having it still be unstated just underscores how much the value of this change won't be determined until its actually implemented. Will the leading community health issue transform care, or is that promise an aspiration quickly forgotten? Watch that, and Mass General Brigham will show its community if its new brand is more than a reshuffle of words we already know.
To learn more see coverage in the Boston Globe, or the the announcement by Partners HealthCare.
On to Denver Monday, or a huge weather delay ;>
On a personal note, just as New England's first winter storm rolls in, I have travel plans to fly to Denver which has had its travel disrupted twice in the last week due to its own snowy weather. Though there for work, I was in fact born in Denver starting life as an orphan there. There's a change we've seen – orphanages in the US have been replaced by a system of foster care and private adoptions.
I left Denver at a young age, but there's something about young culture in the west that has always felt especially alive to me. Today there's a vibrant health tech innovation scene in Denver, and in spare moments I'll be on the look out for notable airport advertising to add to the collection here. Wish me luck, and I hope to see you back here next week. Thanks.