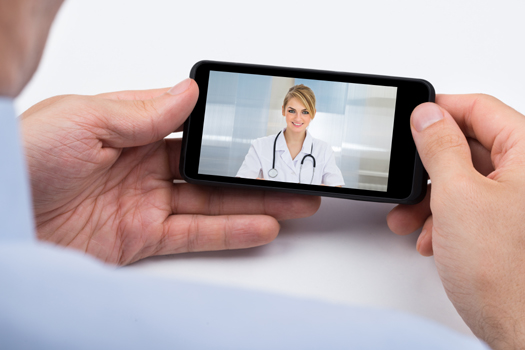 As published by the Society for Healthcare Strategy and Market Development on 1/4/17.
If you look through Periscope to see how healthcare marketers might use personal video, the picture is still fuzzy. But if you look at this through Facebook Live, it's crystal clear why many are adding Facebook Live to the innovative edge of their brand's digital engagement strategies.
Twitter has been helping get people familiar with personal video for years. Back in 2013, I described Twitter's six second Vine loops as a low risk way to get teams tuned-in to personal video. Then came Periscope, Twitter's live video streaming app, which would let you broadcast as long as your device's battery bandwidth could hold out.
Facebook Is Simply More Invested in Personal Video
Though Twitter pioneered streaming personal video, Facebook's Mark Zuckerberg is all in to popularize it. With his commitment comes a level of pump priming that Periscope never saw. Consider the $50M in contracts Facebook has put in place to get celebrities and publishers using it. They are starting with a huge advantage too, as Facebook's user base is more than 1.71 billion active monthly users while Twitter's is around 313 million.
The result is that Facebook Live is already overwhelming the competition. Working with ABC News it averaged 8 million live views for the three presidential debates. By comparison, Google's YouTube averaged about 2.8 million and Twitter had less than a million.
This success hasn't gone unnoticed by others: The Atlantic 10 athletic conference is going to be showing 15 basketball games on FB-L this year; Fox premiered the first episode of its new series Outcast on it two weeks before it aired on TV; and one of the world's most popular soccer teams, Real Madrid, has moved its club TV channel to FB-L, resulting in more than 110 million video views.
Event Tools Make Brands More Welcome
While television networks and sports franchises may use Facebook as a broadcast platform, its real potential is for brand marketers who are hungry to extend their customer relationships and cultural relevance. Beauty marketers, The London Zoo, and Dunkin' Donuts are all taking a swing at building their audiences on Facebook Live, and Mr. Zuckerberg's team is doing what they can to smooth their path.
In the last few months, Facebook has built out some of the features brands need to make Live casting work in the formats they'll bring to the platform. Adding a way for a friend to "drop in" to co-host a live stream from a second location starts to set up Facebook Live as a richer media alternative to a podcast. And while an option to apply a virtual mask to participants faces might at first may seem like a gimmick, one can imagine benefits of conducting anonymous interviews or how this could make a first test of Live a bit less "on the record."
Just recently, Facebook made good on promises for more features for brand events.  For instance, hosts can now create links for events up to a week in advance, so they can be embedded in ads, blog posts, and links for social media. They've also added a option for viewers to get a one-time notification reminding them that the stream is starting. And as audiences gather, Facebook now provides a lobby experience so events can kick off with their audience in place.
Facebook has helpful tips for trying out personal video. And healthcare marketers around the U.S. are already giving this a go.
Hospital's Step Forward With Personal Video
While hospitals don't have the inherent draw of college basketball or a major TV network, they are starting to build impressive engagement with personal video on Facebook Live. Just take a look: The Mayo Clinic, UNC Healthcare, Children's Hospital of Wisconsin, Ohio St University Wexner Medical Center and others are live streaming community outreach events like ask a doctor sessions, lectures, medical procedures, fundraisers and guided tours. 
The results so far have been impressive.
UNC Health Care reports
A 480% increase in daily interactions
Average weekly reach increase of 2,576%
A 75% increase of page likes in the first six months
Page likes have currently increased by 140%
The Affordable Care Act live chat has been replayed more than 2,000 times
Source: Market Sherpa Article
Results from Children's Hospital of Wisconsin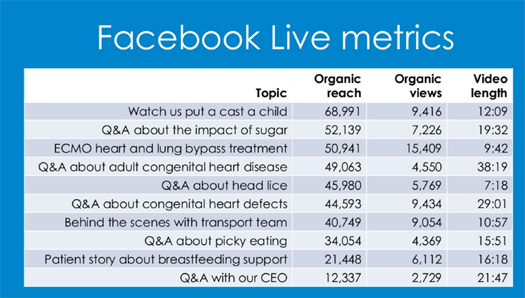 Slide 18 from a full presentation on Slideshare

Reaching patients, members and supporters through video can become popular with clinical staff too. CHW reports many doctors are now requesting to do recurring sessions. Yes, just as I cheered for three years ago, personal video is helping to bring real people forward to humanize their professions and the organizations they are part of.
Some medical staff have  icked up the microphone and camera with a zeal. Take a look at Zubin Damania, MD who may already know as the YouTube sensation ZDoggMD.
After residency and 10 years on the Stanford University Medical Center staff, Dr. Damania found a path to become a healthcare rapper, educator, and provocateur for inventing better ways to deliver care. Take it from Mr. Creative Destruction of Medicine himself, Dr. Eric Topol, who says Dr. Damania is connecting with patients with a credibility that our industry could take a lesson from.
Back in 2009 I semi-ironically wrote that 'writing web copy is for suckers'. And while I'm still both believing and ignoring my own advice, there's no doubt that video provides an immediacy, durability and reality that reaches beyond words on a page. 
So, as you think about smart ways to build brands in the new year, combining the personal connections of Facebook with the personal engagement of video is more than a bright shiny object. It's a bright idea. Of course, there is always a risk to "Building Assets On Rented Land". After all, Facebook could change its terms, or the visibility it gives these streams. Why be dependent?
Of course, empathetic marketers recognize the value of being proximate to their audience, and the chance for ongoing contact that brings. One might call this approach "Fishing Where the Fish Are". And if Facebook continues to create increasingly useful tools to manage, promote and capture live events, their combination of audience and tools will be an attractive opportunity for brands to see engagement.
That makes this a natural move for healthcare organizations. Few industries require the level of trust and attention that healthcare does. So its' no surprise that some of its leaders are looking at Facebook Live as a way to build these relationships. And for those of us not already trying this out, it may be time to tune-in.
Save