While airports are still such islands of misfit advertising that bad airport advertising gets its own category here, public transportation in general seems plagued by regrettable ads.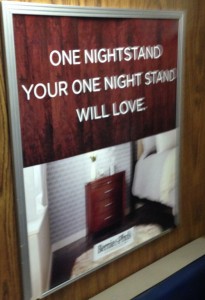 Here are a few that I've noticed recently on subways.
Bernie & Phyl's: Quality, Comfort and Ick
Discount furniture store, Bernie & Phyl's has turned up the heat on their advertising with a series of ads that use sexual innuendo to get people thinking about furniture buying.
This can be a dangerous gambit. Take a look at their ad promising "one nightstand your one night stand will love". Yep, its clever and pretty specific to singles who are sleeping around, which I suppose for some isn't how they most want to be known.
The chain of stores is already well-known for their low-budget ads. But now that their brand is linked to serving those who are, shall we say, loose with their affections, Bernie and Phyl's ick-factor is surging. Yes, I appreciat the humor. But I don't shop there, and these ads sure don't make me want to do so.
Suffolk University Hates Orphans
Just as Bernie and Phyl built an editorial tone that gained momentum over a series of ads, Suffolk University has too. In my opinion, they've strayed to the wrong side of Wieneke's first law of advertising, not associating your project with death or terrible harm.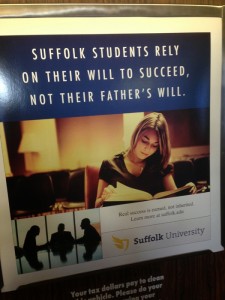 As local competitors Boston University and Northeastern University have ascended in rankings and price, Suffolk has moved in to a position as one of the last "commuter schools" in Boston. They built a strong digital capacity, relaunched their undergrad brand, all while staking out a semi-plaintiff tone as the hard working, merit-based, counterpoint to Boston's ivies.
It may be subtle, but students who "rely on their father's will" to attend school have lost a parent. Ironically, though their ad discourages students who want to spend their father's will on education, its development office has its own planned giving program for just that. So, Suffolk seems happy getting a check directly from Dad's will, just not via his survivors.
Besides risking being insensitive, let's keep in mind how many rich, sexy  fictitious orphans excell in higher education. Consider Skylar, played by Minnie Driver in Good Will Hunting, who attended Harvard on her dead father's remembrance.  Lady Laura Croft, the entire case of Rags to Riches, and most Disney protagonists are orphas too. Guys, you know Boston University would take them in a heart beat, why not Suffolk?

HealthPlus Amerigroup Now Has an Even Longer Name


HealthPlus Amerigroup is now Empire BlueCross Blue Shield Health Plus, a name comprised of seven words, which even their website doesn't fully embrace.
But wait, there's more; it as also an Anthem Company. Anyone looking for overhead to cut in healthcare might start with this ad.
When Oscar promises smart, simple health care in New York, this is the kind of lethargic legacy leader whose branding they're hoping to eclipse with simplicity.

Health clinics aren't marketing ploys, are legal ones?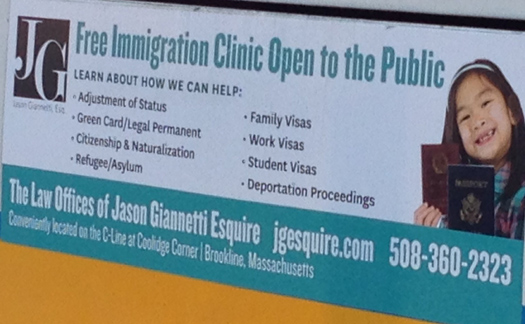 Hospital's have clinics that serve low income and disadvantaged communities to the good of the larger society. Law school's have clinical programs that provide similar services which also provide training to young lawyers. 
I don't have first hand knowledge of this free immigration clinic offered by the Law Office of Jason Giannetti Esquire. But seeing this ad on on the side of a public vehicle, I'm reminded how important the word "clinic" is to those in need of services.
In other industries clinics are for helping, not learning about how one might benefit from becoming clinets. Just as there's risk in sexy copy and snark, humanitarian words create a promise of more than just marketing.