I'm having a hard time getting past the non sequitur which is at the heart of a bad ad in Boston's Logan Airport presented by the Greater Boston Convention and Visitors Bureau.
Summer Selects…Boston
What does this even mean? Did Summer select Boston like the GOP selected Cleveland, or like the Olympics will select any city other than Boston if they're rational?
And talking about the time of year before getting to the real message just feels like tactic more suitable for a PTA newsletter than a display ad. Look how long its taking us to get to the point of this ad.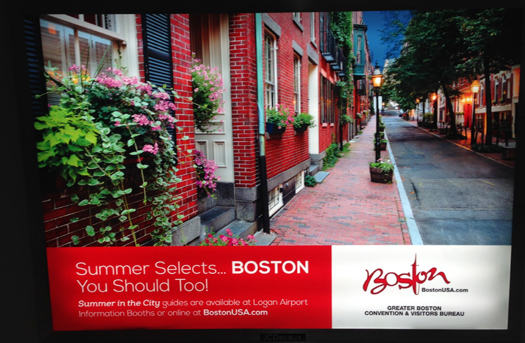 You should too?
Wait, hasn't everyone seeing this panel at Logan Airport has already chosen Boston, or chosen to leave it? I could see welcoming or thanking people at the airport, but it is a funny place to talk about selecting Boston. By the time they're here, that call's been made.
Safe art to match pointless copy
Look at the rich residential image and ask, "What's here for me?" It looks like a street sweeper just came through and cleared Beacon Hill of everything but architecture and flowers. But it doesn't have to be this way.
Imagine if this same image had promoted the Beacon Hill Garden Tour, along with Open Studios in a half dozen neighborhoods, perhaps Saint Festivals in the North End. Though I still think QR codes are ugly and  dysfunctional – they could be employed here to connect to the guide that seems to be the buried purpose in this work.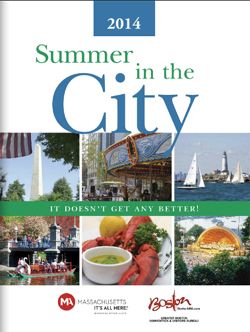 But wait, we have some kind of guide!
The apparent payload of the add is a buried call to request a visitor guide at the airport or through their website. Why? Maybe it is free, informative, and filled with ads and offers from paying advertisers which this ad is intended to promote. But if so, all that goes unmentioned.
The ad fails to mention any attractive attribute about the guide or Boston. It just takes up space, and eventually will contribute to a brand reach report – suggesting that in aggregate that this ad added value to our region's standing. But Summer doesn't select Boston, and nobody else will based on this creative and placement.
Greater Boston CVB, I'm talking to you
We live in the Hollywood of Science, which is also a sports mecca, and through film and television (Banacek to Johnny Tremain; Allie McBeal to Black Mass) it has a legitimate place in the world's imagination. Boston's brand is the exact opposite of this ad, Boston is nothing but imagination.
I contacted GBCVB's public relations office and learned this was donated space — and the goal of the campaign was to portray Boston as open for business after last year's marathon bombing.
But to sell the shoe, you have to show the shoe. And what GBCVB shows us about Boston is forgettable.
Perhaps we'll fair better once Fall or Winter chose Boston.