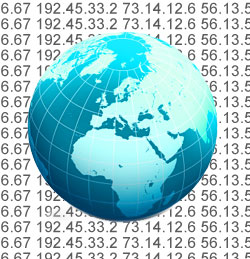 In a ruling that could cause shockwaves throughout the online legal community, a federal judge in Seattle has held that IP addresses are not personally identifiable information.
According to  U.S. District Court Judge Richard Jones: "In order for 'personally identifiable information' to be personally identifiable, it must identify a person. But an IP address identifies a computer."
This ruling  goes to the very heart of many RIAA and MPAA court cases.
The ruling came in a class-action case against Microsoft in which the plaintiffs charged the software maker with a violation of its own user agreement because it collected IP addresses during software updates.

Microsoft successfully argued that the collection of an IP address does not identify any person because no names or physical addresses are gathered. The judge dismissed the case.
According to Online Media Daily:
[…] some say that Jones's decision about IP addresses is inconsistent with other recent opinions about the issue. Eric Goldman, director of the High Tech Law Institute at Santa Clara University, points out that the European Union considers IP addresses to be personal information. Last year, the EU said that search engines should expunge users' IP addresses as soon as possible.

Additionally, a court in New Jersey ruled last year that Internet service providers can't disclose users' IP addresses without a subpoena, on the theory that people expect their IP addresses will be kept private.

Marc Rotenberg, executive director of the Electronic Privacy Information Center, criticizes the Microsoft ruling as "a silly decision." "The judge didn't understand the significance of the IP address or the reason that it was collected," he says.
An IP address identifies hardware connected to the internet, either directly or indirectly. It's a leap to presume that it identifies a specific person. There may be a correlation, but no direct association. Restricting the permanent collection of IP addresses may still be a good thing in the EU decision because of the strong correlation, but that hardly implies 'Joe Blow'  is equivalent to '206.04.23.44'.
This argument will all recede into memory as soon as everybody is issued a number that uniquely identifies them anywhere on the internet. Then you'll see Todd Davis driving trucks around Manhattan with his "Digital ID number" plastered on the side.  Oh, joy.