Egyptian President Hosni Mubarak is considering blocking Facebook, the popular social networking site used in April to mobilize 80,000 supporters to protest rising food prices. As described in earlier postings, Facebook has been used around the world to coordinated even larger protests.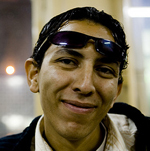 Blogger Kareem el-Beheiri, who covered and promoted the protest was imprisioned for 73 . See coverage from Reporters Without Borders.
The Washington Post provides an intimate account of three Facebook organizers, their attempts to organize online revolution in Egypt, their eventual chase, escape and interrogation.